Knowledge Management with Mindbreeze InSpire
Mindbreeze does not try to integrate: the data stay where they are generated (SAP or on your CRM system).
Mindbreeze uses standard connectors to dock with the data, and generates a knowledge database that does not replicate the original data, but introduces a meta level that quickly collates information and allows data to be found quickly.
Because your data are left unchanged, departments can still work with their preferred systems (e.g.,:SAP, Salesforce or SharePoint) and are additionally empowered to leverage the strengths of enterprise search from within these systems: this means all the pertinent facts on a specific topic in a 360-degree view generated from logical and smart linking of this information.
Multichannel-In/Multichannel-Out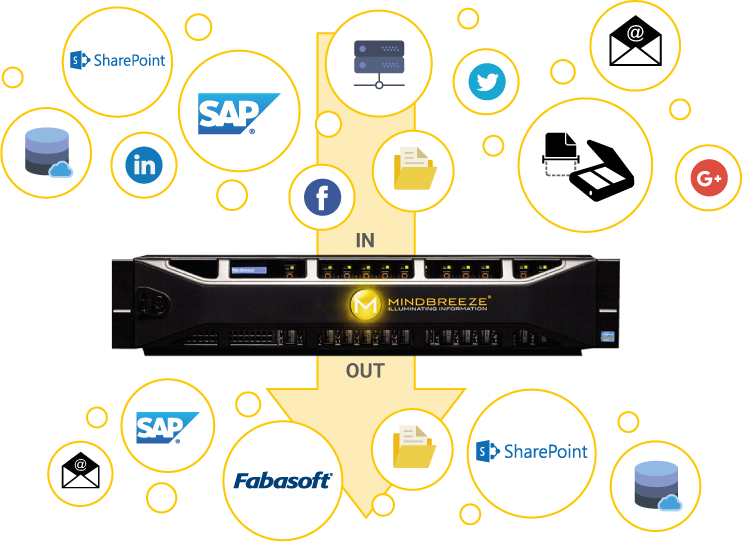 With its 450 Connectors, the appliance can be connected to any data source. Mindbreeze understands documents in over 500 file formats. This allows documents to be processed quickly and automatically, and then transferred to the appropriate business processes, applications, and content repositories.
Digital mail service and no more forms
Whether e-mails, letters, or social media posts - Mindbreeze recognizes more than 500 file formats from more than 450 data sources.
Appliance means a rapid start-up
The appliance is delivered configured and can be used immediately.
Self-learning method for classification
Contexts are automatically recognized and continuously enriched with additional information.
A Solution for all Industries
Automated Document Processing
The cost pressure is rising, especially in operational areas. Manual mail pre-processing or sorting, data collection, as well as the distribution of incoming mail and electronic documents like faxes, e-mails with attachments, and posts from social media channels are time-intensive, expensive, and notoriously error-prone. Finding real cost-saving solutions is a growing imperative.
Mindbreeze extracts content, such as customer numbers (metadata) from unstructured texts, and uses semantics to recognize whether the document is an application or an order (document type). When it comes to understanding information and recognizing semantic relationships in huge volumes of data, machine learning algorithms have tremendous advantages.
Semantic Pipeline
Mindbreeze is equipped with a semantic pipeline. Multiple stages of this pipeline can be configured to extract structured information and elements as well as their relationship to content.
Intelligent, self-learning and self-optimizing
Error-tolerant alignment of master data: Unstructured data is analyzed by aligning it with company-internal master data. Mindbreeze associates names with customer numbers and can deliver enriched information. Mindbreeze can also validate or correct incorrect metadata, such as a customer name.
I'm interested in Mindbreeze InSpire