Website Search
The Mindbreeze InSite cloud service delivers superior search functionality for your customers across all your web portals, websites, blogs and social media channels. Mindbreeze InSite turns information into insight.
Why InSite?
Mindbreeze InSite unlocks structured and unstructured information on web portals, web sites, blogs and social media channels for an enterprise in a semantic search index. Thereby, web site visitors always find the essential enterprise information first.
Finds everything
Finds across multiple websites
The most important search result first
Finds the quickest way
Shows what your website visitors can't find
Illuminates your mobile business
Maximum Benefit. Minimum effort.
Multiple Awards
Read more about that on Details.
That's what our customers say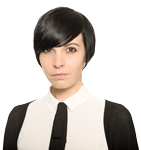 "As an Austrian technology portal I'm pleased to be able to integrate an Austrian search on futurezone. It fits our concept perfectly of putting Austrian ideas and companies in the limelight. With Mindbreeze we've gained one of the leading search machine developers as a partner. This allows us to fulfill and understand the information needs of our website visitors with more speed and more precision.", Claudia Zettel
Interested in Mindbreeze InSite?
01 | Request
Enter the website URL that you want to test Mindbreeze InSite with. InSite analyses your website and sends you an offer by email.
02 | Try
Start testing your Mindbreeze InSite trial online. Mindbreeze InSite impressed you? Then purchase your own customized service package!
03 | Benefit
Copy the HTML code from the test environment and paste it into your website. And let your website visitors wake up to a world of illuminated information!