Mindbreeze InSpire Customer Insights
Mindbreeze has over 1300 customers worldwide.
Many of whom have developed their own custom search applications.
"We have opted not to employ Mindbreeze as a conventional search solution, but rather as a complement to our incoming mail department. In this process, Mindbreeze analyzes the contents of incoming mail items such as scanned letters and e-mails, and automatically forwards them to the right department. With a success rate of over 80%, our employees are freed up to tackle more important tasks."
"In order to provide our clients with comprehensive and personal consultation, it is vital to find case-related files quickly and to be able to incorporate documents or revision statuses from other locations into our analysis. In our law firm, we strive to meet the demands of the modern communications world; electronic document and information management now provides us with more efficient processes."
"We evaluated numerous products, and the simplicity and overall concept of Mindbreeze convinced us immediately. Initially accompanied by TWT, we put the appliance into operation within a very short period of time and now the service is available to all our employees and students."
"We were quickly won over and enthusiastic about the simplicity and overall concept of Mindbreeze InSpire. The Mindbreeze appliance was configured and ready for use on the very first day of delivery. We have been using it extensively for three months now, with very positive user feedback."
"As a leading telecommunication provider we take efficient knowledge management serious. Mindbreeze demonstrated in an extensive evaluation phase what their product is capable of. Compared to the other leading vendors we evaluated, Mindbreeze was the most compelling package, not only because of ease of use, but also because of high-end features and the outstanding set of connectors they just provide out-of-the-box."
Company Information
Mindbreeze InSpire finds all information about your company, such as e-mail addresses, telephone numbers, and contact persons.
Contacts
experts from different fields as well as their contact information are clearly displayed.
Documents
All documents, including their latest revisions, are quickly found and displayed using the preview function.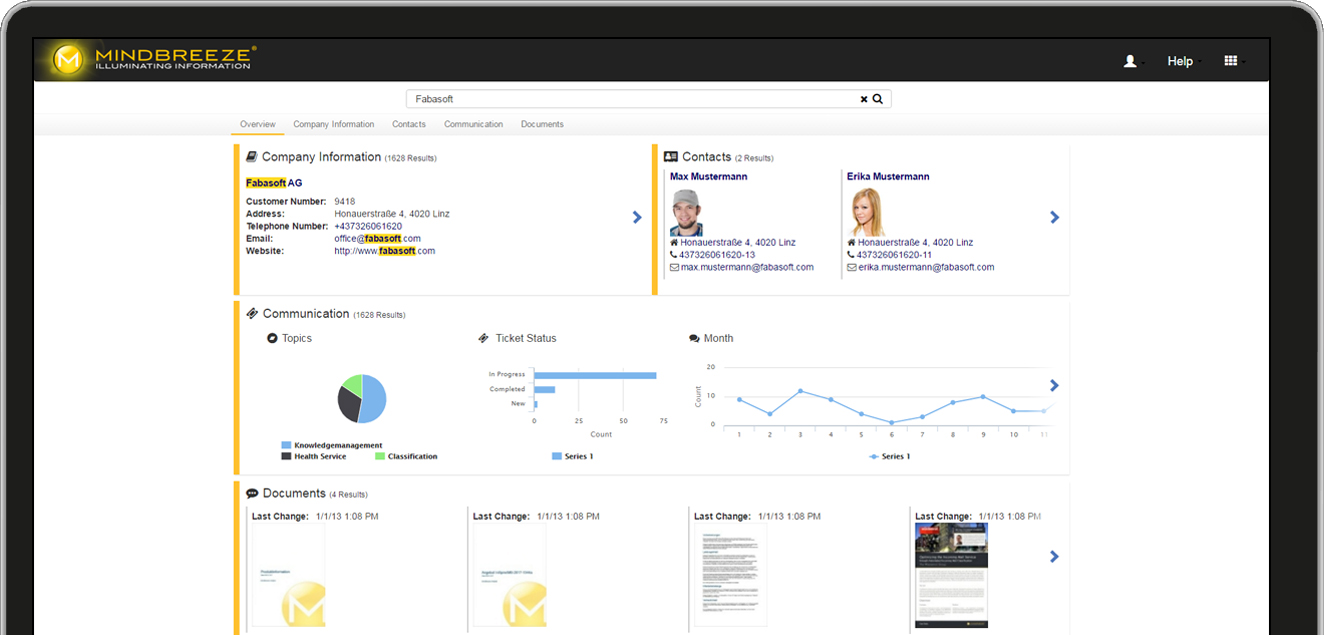 Search-Driven Analytics
The eCTD search app gives users an auto suggest based on the metric catalogue.
The auto suggest is used to help the user navigate to the most preferred search term using an internationally recognized dictionary.
360-degree View of the Customer
With the 360-degree customer search app, the user is able to see and interact with a 360-degree view of one account by indexing multiple structured data sources such as SAP.
Semantic Connection
Mindbreeze is familiar with all the articles by an author and recognizes other metadata, such as publishers, diseases, and co-authors.