Connectors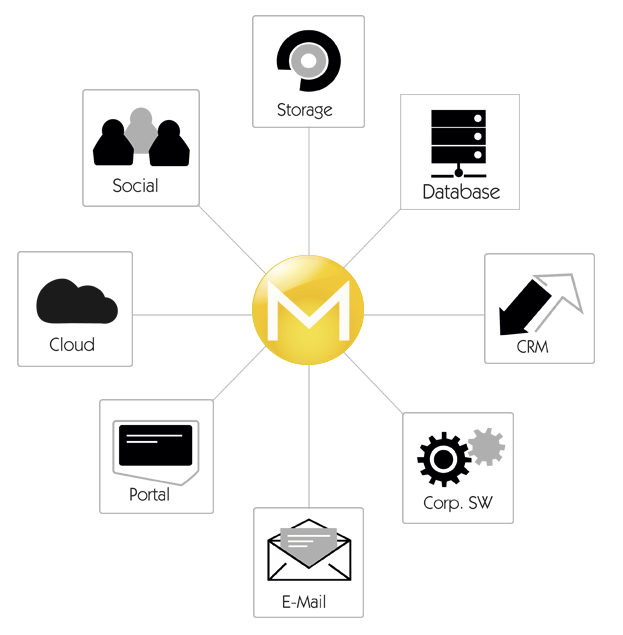 To allow an easy integration within your company, Mindbreeze InSpire offers more than 450 connectors to tie the different data sources. Of course we offer typical data sources like shared folders, Microsoft SharePoint and a multitude of ECM Systems.
All connectors are able to do more. They support the operative and analytical requirements as well as a preselection of relevant datasets. Beyond this our connectors make sure that all data is synchronized and up to date, so that changed documents and information is available shortly.
Over 450 connectors
Line-of-business Applications
Atlassian Confluence Connector
Atlassian Jira
CentricCRM, SugarCRM, VtigerCRM, Microsoft CRM
Citrix Sharefile
EMC Documentum
Fabasoft Cloud
Fabasoft eGov-Suite
Google Analytics, Hubspot, Act-on
IBM Content Foundation
IBM Content Manager OnDemand
IBM FileNet
IBM Gase Manager
IBM Notes
Jive
Laserfiche
Lexmark
Microsoft AX, Open Bravo, SageX3
Microsoft Exchange 2003, 2007, 2010, 2013
Microsoft Office 365
Microsoft Outlook PST files
Microsoft SharePoint 2003, 2007, 2010, 2013
OpenText Documentum
OpenText InfoArchive
OpenText Leap
OpenText LiveLink ECM
OpenText Suite 16
Salesforce
SAP (JCo)
SAP und SAP KMC Connector
Service Now
Symantec Enterprise Vault Federator
Talend MDM
Communication / Collaboration / Social
Alfresco
AmazonRDS
Box
CMIS interfaces
Dropbox
Egnyte
Google Drive
Healthcare Connector for HL7
LinkedIn Contacts, Gmail Contacts, Windows Live Contacts
Marketo
MediaWiki
Microsoft OneDrive for Business
Oracle Content andExperience Cloud
Oracle WebCenter
Web Connector
WebDAV Connector
Wiki Connector
Wikipedia
Connectors for open standards
Directory Services: Generic LDAP, Open LDAP, Active Directory, ...
Fileshares: CIFS, SMB, ...
Data transfer standards: FTP, WebDAV, CMIS, ...
...and lots of other connectors.
Your individual connector
Both the Mindbreeze development team, as well as our partners and third-party manufacturers are constantly striving to develop Mindbreeze InSpire. If you use a data source that is not yet among our more than 450 connectors, please contact us and we will gladly offer you an individual connector.