Open Positions
Position
Location
Team
Senior Frontend Web Developer
Linz
Research & Development
Technical Trainer
Linz, Vienna, Frankfurt,
Chicago, Silver Spring
Academy
Search Consultant
Linz, Vienna, Frankfurt,
Chicago, Silver Spring
Professional Services
Technical Support Consultant
Linz, Vienna, Frankfurt,
Chicago, Silver Spring
Professional Services
Operations Engineer in the Operations Team
Linz, Vienna, Frankfurt,
Chicago, Silver Spring
Professional Services
Java Developer
Linz
Research & Development
Marketing
Linz
Internship
Software Engineering
Linz
Internship
Web Engineering
Linz
Internship
We haven't currently listed the position you're looking for, but you don't want us to miss out on getting to know you?
Spontaneous Application
We're growing
You are interested in working with the brightest minds in the field of enterprise search and big data and serving an international client base? We are looking for motivated employees with personality and common sense.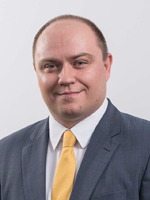 "The goal was to give our employees an ambience of well-being and an outstanding work environment, which supports both creativity and communication and promotes cooperation. Mindbreeze is an innovative company that goes its own way in many respects, and we wanted to reflect that in the office design."
Contemporary Working Environment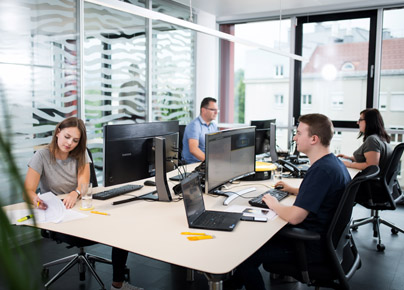 Mindbreeze is an innovative and successful enterprise search provider. Headquartered in Linz, we also have several offices in Europe and the US. We turned our passion into our profession, and our product, Mindbreeze InSpire, provides a solution for companies which allows them to find hidden information and use it to propel their business.

In the summer of 2015 we moved into our new 700 m² office in Linz, which provides our staff with a state-of-the-art working environment in which art and technology are combined to inspire innovation and creativity.
Photos of the Mindbreeze-Office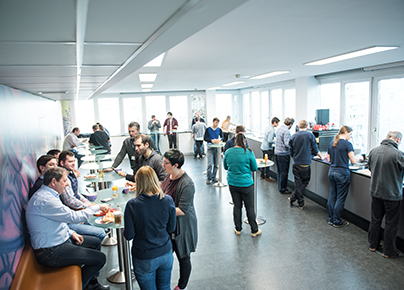 Mindbreeze is a subsidiary of Fabasoft AG. As an employee of Mindbreeze you'll enjoy all the group benefits which are available, ranging from a daily breakfast and complementary beverages to extensive education and training opportunities.
Employment with Fabasoft