Published: May 20, 2014 - 16:58
Mindbreeze in the city that never sleeps
Enterprise Search & Discovery 2014 in New York

Mindbreeze jumped across the pond to take part in the specialist search event. It was clear that big data is becoming increasingly important for companies. Up to 2013 we amassed 5 Exabyte of information. Today we produce this amount of data every 2 days.
Alongside such facts, highly interesting and current topics such as "Improving Search for Better Discovery", "The Power of Content" and "The Big Data Technologies you need to know about" were presented and discussed.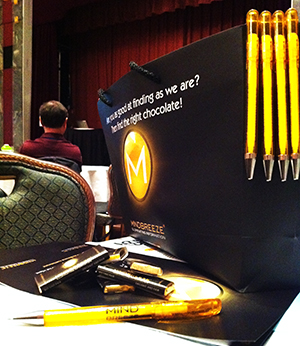 It emerged from presentations that the introduction of enterprise search is becoming more and more a strategic project. Keynote speakers also talked about the fact that in future enterprise search should focus on video and audio elements.
Other topics such as "Who does collected data actually belong to?" were also intensely debated. Furthermore, distinctions between different definitions of big data were outlined. For experts big data is not just the mass accumulation of data but linking it to make it usable. Others see the problem with big data being that 80% of the information is unstructured.
The personalisation of search applications was also a topic of discussion.
Mindbreeze sees itself as a pioneer is this area and will continue to pursue its role as trendsetter in the future.
Outside of the keynotes the Mindbreeze chocolates proved to be a real hit with the event visitors. The Austrian chocolates from exclusive chocolatier Zotter went down incredibly well and those with a bit of luck found a golden ticket to test Mindbreeze InSite for free for 6 months.
For more information about the conference, please visit: http://www.enterprisesearchsummit.com/NY2014/