Published: May 20, 2014 - 17:09
Mindbreeze (chocolates) well received in New York!
Zotter chocolates were in high demand at the Midtown Hilton hotel throughout the Enterprise Search & Discovery 2014 conference.
Mindbreeze was able to make a good impression with the Austrian delicacies and the event visitors had no problem finding their way to the Mindbreeze booth to claim their fill!
And those chocoholics that found a winners ticket in their chocolate wrapper won a free 6 month Mindbreeze InSite trial. Congratulations!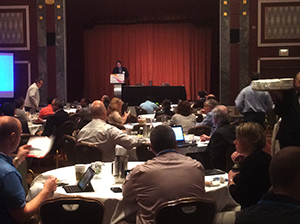 On the second day of the conference the definition of big data was further deliberated. One keynote speaker talked about "Thick Data" rather than "Big Data", meaning simply that it's not just about the amount of data but about the linking and relevance of this data to generate actual business value.
Moreover, a recurring issue was that unstructured data especially – which accounts for approximately 80% of today's data – causes a great of problems.
An expert from the healthcare sector, however, saw the problem in a slightly more relaxed manner. For him a combination of unstructured and structured data is a must.
For many data scientists, a further must-have is control and measurement of data value. Using the so-called TCOD (Total Cost of Data) costs should be compared against the resulting income to calculate the actual value of the data.
In conclusion to the conference, it's clear that the topic of big data has arrived in America.
So when will Europe start to seriously take action?
Big data isn't big brother!